Helpful Websites:
Native Lawn Guide through the City of Stevens Point
Soil Testing for Lawns and Gardens
Upcoming Webinars through UW Extension (Often free and online, but registration required)
Wild Ones Central Wisconsin Chapter Facebook Page
Wild Ones Native Garden Designs
WI Native Plant Nurseries List
Member-Created Guides and Documents:
Jill's Plant of the Month
September – Showy Goldenrod (Soldiago speciosa) is aptly named since it is indeed showy with its tall golden plumes! It blooms 3-4 weeks providing nourishment to insects when many plants are dormant and is also the host plant to the Checkerspot Butterfly. Doug Tallamy's research shows that goldenrods provide food and shelter for 115 butterfly and moth species and more than 11 native bee species feed specifically on these plants. Goldenrods are especially important to migrating butterflies such as the Monarch Butterfly and bees preparing for hibernation. You'll also find other beneficial insects such as Soldier Beetles on goldenrods. Goldenrods also support bird species such as Goldfinches and other songbirds who eat the seeds. Unlike some other species, Showy Goldenrod will not spread aggressively. It grows 3-5' but if you want a shorter, bushier plant, you can cut it back by half in late June. Plant Showy Goldenrod, with New England Aster, Ironweed, Blazing Star, or Joe-pye Weed for a lovely late season pollinator garden.
August – Boneset (Eupatorium perfoliatum) grows 3-4' tall with clusters of small white flowers on sturdy stems. The stem looks as if it is growing right through the leaf (perfoliate). This once led healers to believe it could be used for setting and healing broken bones. As you can see by the pictures, this is a great plant that provides pollen and nectar for a wide variety of insects. Flowers open from the center of the flower outward providing food for an extended period of time. Some of the beneficial pollinators that visit this flower are Yellow-Faced Bees, Mining Bees, Sweat Bees, Bumble Bees, Green Sweat Bees and Grass-Carrying Wasps. Boneset is the host plant for the Clymene Moth, Three-Lined Moth and the Boneset Borer Moth. A pollinator magnet, plant in moist soil for the best results.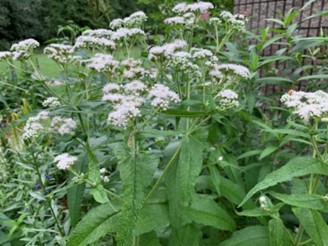 Photo Reference: Boneset plants located near the Plover Library
July – New Jersey Tea (Ceanothus americanus) has a woody stem system and is classified as a shrub or sub-shrub because of its small size, 2-3 feet tall and up to 3 feet across. It is a hardy plant that thrives in sandy, rocky soil and part shade or sun. It's even tolerant of road salt making it a versatile plant for landscaping. During the first year of growth, don't let the roots dry out and protect it from browsing with fencing. While this plant grows slowly the first few years, it becomes drought tolerant once the deep tap root becomes established. Host plant for the Mottled Duskywing, Spring Azure and Summer Azure butterflies, New Jersey Tea is also an important nectar source for bees and butterflies. Finches and other birds eat the seeds. As part of its natural heritage, New Jersey Tea was once used by colonists and soldiers as a substitute for traditional tea during the Revolutionary War. Plant New Jersey Tea! It is a beautiful plant which can be used in shrub borders, prairies or flower gardens!
Photo Reference: New Jersey Tea plant growing near the Plover Public Library
June – Golden Alexanders (Zizia aurea) is an easy to grow plant which provides an important source of nectar and pollen to emerging pollinators. It grows 1-2' in sun or part shade making it a versatile plant in the landscape. Plant with other low growing natives such as Wild Columbine, Wild Geranium, Jacob's Ladder, Wild Lupine or Prairie Dropseed. The flower of the Golden Alexander is an umbel, a flower cluster in which the stalks of the individual flowers all grow from the same point, like the spokes on a bike. The delicate yellow flowers open from the outside and move inward allowing the plant to bloom for several weeks. Small bees like mining bees collect the pollen while large bees prefer the nectar. Golden Alexanders is in the carrot family and is one of the host plants for the lovely Black Swallowtail Butterfly. Be sure to look for the beautiful green, black and yellow Black Swallowtail caterpillar on this plant!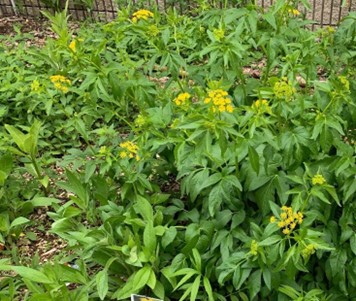 Chapter Library:
Did you know that our chapter has a library open to our members? We have a variety of books ranging from plant and insect identification to helping design your garden! Books can be picked up and checked out at our monthly meetings. All books are due back at the final meeting of the year in November. List is arranged by alphabetical order according to their title.
A Guide for Eastern North America Wasps by Heather Holm
Attracting Birds, Butterflies, and Other Backyard Wildlife (National Wildlife Federation) by David Mizejewski
Bees, An Identification and Native Plant Forage Guide by Heather Holm
Bringing Nature Home by Douglas W. Tallamy
Gardening with Prairie Plants by Sally Wasowski
Half-Earth by Edward O. Wilson
Invasive Plants of the Upper Midwest by Elizabeth Czarapata
Landscaping with Native Plants of Wisconsin by Lynn M. Steiner
Monarchs and Milkweed by Anurag Arawal
On Meadowview Street by Henry Cole (Children's Book)
Planting in a Post-Wild World by Thomas Rainer and Claudia West
Plant a Pocket of Prairie by Phyllis Root (Children's Book)
Plants for Stormwater Design by Daniel Shaw and Rusty Schmidt
Pollinators of Native Plants by Heather Holm
The Bees in Your Backyard by Joseph S. Wilson and Olivia Messinger Carril
The Living Landscape by Rick Darke and Doug Tallamy
Wildflowers of Wisconsin and the Great Lakes Region by Merel R. Black and Emmet J. Judziewicz
Wildflowers of Wisconsin Field Guide by Stan Tekiel